Are you taking all the steps necessary to get the proper facial cleanse? Here, we're going to give you an overview of how to effectively care for your skin.
The key to skin is BALANCE. This means for you oily skinned beauties, not OVER DRYING and for you dry skinned beauties, not OVER MOISTURIZING. In the same breath, over cleansing the skin can lead to irritated, dry skin that produces more oil to compensate, instead of a fresh glow. Your beauty routine should include three steps for day and
night, with a light cleanse in the morning and a deep cleanse at night.
1. NO CLEANSER—There is no need to cleanse in the morning as you have deep cleansed the night before. Therefore, we recommend that you just splash tepid water on your face.
2. Tone—Toners are used to balance the skin's natural acid mantle, as well as clean up the excess dirt from your skin and shrink the appearance of pores. Avoid alcohol-based toners which are too drying on the skin.
3. Day Protection—Find a moisturizer with a minimum of SPF 15 for the day. You can opt for DEX's Mineral Tinted Hydrator; which includes an SPF 20. Yes, UVA and UVB rays are still effecting your precious skin even if your not spending hours directly under the sizzling sun. What do we always say? SPF is one of your best friends when combating or preventing aging.
If you have prescribed face washes, the time to use them are at night when you really want to cleanse all the dirt, makeup, and sweat from the day.
1. Deep cleansing—First off, make sure you remove all makeup with a makeup remover wipe or any form of makeup remover. Depending on your skin type you should choose the following based cleansers:
How to pick a night cleanser?
Sensitive skin—Milky based
2. TONE—Like the morning, spritz your face with an astringent to shrink the pores, as well as calm and balance the skin tone.
3. MOISTURIZE—Use a separate moisturizer from your day time one (with no SPF) for nighttime. You don't want to use a moisturizer with SPF at night because it's best to give your skin a break from it (also completely unnecessary in the dark).
There are a few extra steps that only benefit your skin more like topicals and exfoliation.
TOPICALS

—The fourth optional step is any dermatologist prescribed topicals for acne, anti-aging or any other skin problems. Your skin heals while you sleep, so this is the best time to apply those heavy duty creams f

or your skin's ailments. This includes eye creams which we will mention below!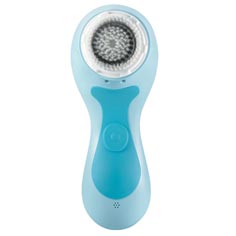 EXFOLIATION
—This
is so crucial and is often forgotten! While exfoliation every night may lead to irritation, it is necessary on a weekly basis to rid the dullness of skin and reveal a softer, more glowing complexion underneath. Try to exfoliate 1-2 times a week either with a clean washcloth or a more high tech tool.
Clarisonic
is one high-tech exfoliator that's hot on the market! With different brush heads targeted to your skin type from dry skin to acne-prone, there is no excuse not to add this pretty little item to your skin routine. The patented micro-massage movements twist back and forth to gently remove more makeup and dirt from your skin. You'll be left with that glow you've been dreaming of!
EYE CREAMS
—The
skin near the eyes is very thin and delicate, which is why it's one of the first places we see aging. What's the best solution? Add eye cream to your nightly routine and ensure that this sensitive area on your face is protected. Plastic surgery fixes a lot of unwanted wrinkle problems, but being PREVENTIVE by using a nightly cream is even BETTER.
Christine Valmy's Valessence 100- Anti-Aging
is special for eyes.
For more tips, tricks and beauty fun, follow us on Twitter @DEXNewYork.
DEX New York Cosmetics, Inc.